Tuesday, August 30, 2011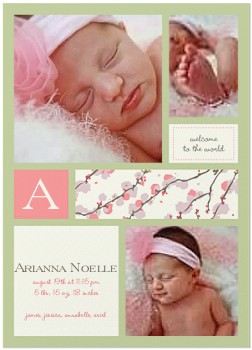 Blossom And Branches Birth Announcement
Announcements for all occasions: graduation, a new baby, or wedding.

Posted by

Jessica
at 5:20 PM
2 comments:
Links to this post

Wednesday, August 24, 2011
I am not a fan of taking picture of my belly when it is big (or normal for that matter). However my sister wanted to see and putting it on here would be a good way to keep a record. I didn't take pictures with the other girls, so this time I made sure to take one every week. I may have missed a couple weeks because I was too sick. These are all pictures of me so don't feel like you need to look through this whole post.
5 Weeks
7 Weeks
8 Weeks
9 Weeks
10 Weeks
11 Weeks
12 Weeks
13 Weeks
14 Weeks
17 Weeks
18 Weeks
19 Weeks - wearing my own jeans!
20 Weeks - Half Way
21 Weeks
22 Weeks
23 Weeks
24 Weeks
25 Weeks
26 Weeks
27 Weeks
28 Weeks
29 Weeks
30 Weeks
31 Weeks
32 Weeks
33 Weeks
34 Weeks
35 Weeks
36 Weeks
Delivery Day - 36 Weeks 1 Day
Posted by

Jessica
at 10:59 AM
No comments:
Links to this post